Sustained cleanliness drive: Cleanliness activities held across Kargil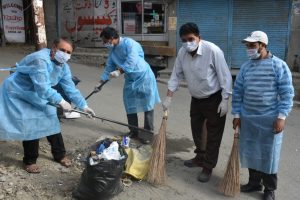 KARGIL, AUGUST 09, 2021: As a part of the sustained cleanliness drive under Azadi Ka Amrit Mahotsav, the employees of different departments along with the members of Municipal Committee (MC) Kargil and volunteers carried out the cleanliness of various wards in Kargil Town here today.
While the team of officers and officials of Revenue Department and Tehsil Office Kargil led by the Additional Deputy Commissioner (ADC) Kargil Tsering Motup, along with the Member Municipal Committee (MC) Kargil Zaheer Hussain Babar, staff of MC and volunteers carried out the cleanliness of Ward No.1 in Kargil Town, officers and officials of Labour, Employment, Cooperative and Forest departments cleaned various locations in Ward No.2 and 3.
All the filth and waste was cleared up, and the officers and officials enlightened the people and students about the need of cleanliness and hygiene for healthy living.
Pertinently, the District Administration has chalked out a detailed cleanliness drive schedule for the municipal limits of Kargil Town as well as all sub divisions and blocks across the district during the 10 day cleanliness drive which is scheduled to culminate on 14th August, 2021.
During the coming days, the drive is scheduled to be held in ward number 4 to 13 of Kargil Town by volunteers, ward members and the officers and officials of Forest, Employment, Cooperatives, Labour, Tehsil Office Kargil, Education, PWD- 1st, R&B-II, Legal Metrology, Handloom and Handicraft and other concerned departments.
Apart from the Kargil Town, a detailed calendar of activities has been laid out for the sub divisions and blocks including Kargil, Sodh, Drass, Bhimbhat, Barsoo, Karsha, Lotchum, Lungnak, Pashkum, Sankoo and Shakar Chiktan, Shargole, Tai Suru, TSG and Zanskar where the cleanliness drive is being held by different departments with the active participation of the public representatives and PRI members including Councillors, BDC Chairpersons, Sarpanchs, Panchs and student community.
Special Gram Sabha/Swacch and Sabha Pani Sabha are also being organized to create awareness about the importance of sustainable cleanliness for healthy living and the welfare of the present generation and the posterity.