Successful trial landing of Pawan Hans MI- 172 helicopter conducted at Sapi Recce of helipads conducted at different locations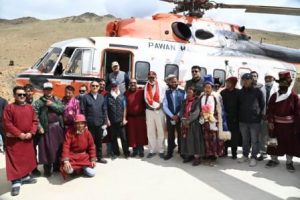 KARGIL, AUGUST 07, 2021: Successful trial landing of Pawan Hans MI-172 helicopter was done at newly constructed helipad at Sapi village in the presence of the Deputy Commissioner and CEO, LAHDC, Kargil Santosh Sukhadeve here today.
Senior Superintendent of Police (SSP) Kargil Anayat Ali Choudhary, Additional Deputy Commissioner (ADC) Kargil Tsering Motup, Former Executive Councilor and Councilor Choskore Constituency Nassir Hussain Munshi, Executive Engineer R&B 2nd Kacho Mehmood Ali, Nodal Officer Pawan Hans/ Civil Helipads Muhammad Hassan, pilots and crew members of Pawan Hans and villagers of Sapi were present on the occasion.
On the occasion Councilor Nassir Hussain Munshi extended gratitude to the UT Administration Ladakh, Department of Civil Aviation Ladakh, CEC, LAHDC, Kargil Feroz Ahmad Khan and Deputy Commissioner and CEO, LAHDC, Kargil Santosh Sukhadeve for taking serious efforts in the operation of helicopter services in the remote village of Sapi.
He further said that the importance of the helicopter services becomes very crucial for the village especially in winter months, when the village gets completely cut off from rest of the world due to which people particularly patients suffer a lot.
The villagers also expressed gratitude to the UT Administration and LAHDC Kargil for taking the initiative which was a long pending demand of the villagers to ease up the aerial transportation.
Meanwhile, the team of officers and Pawan Hans crew members conducted the recce of Barsoo Khandi and Chechesna Sankoo civil helipads to check the feasibility of helicopter landing on these helipads.
Pertinently, successful trial landings at 4 helipads in Kargil District including Drass, Hinaskot, Namkila-Wakha and Kargil Civil Helipad have already been successfully done in the recent past, while in the coming days trial landing will also be done on the helipads at Tangole, Rangdum, Batalik, Padum-Zanskar, Lungnak and Kargyak.