Sub Divisional Office Shakar Chiktan bids adieu to Tehsildar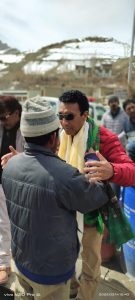 KARGIL, MARCH 14, 2022: Sub Divisional Headquarter Shakar Chiktan today organized a function to accord farewell to Tehsildar Shakar Chiktan, Kacho Asgar Ali Khan, who has been transferred as Tehsildar Kargil Khas.
The officer has served for about 5 and half years as Tehsildar Shakar Chiktan and served the people with commitment and dedication.
On the occasion, SDM Shakar Chiktan appreciated the work of the officer and stated that the officer was dedicated and rendered his services diligently not as Tehsildar Shakar Chiktan but also discharged his duties as incharge SDM Shakar Chiktan for about a year and also as I/C CDPO and wished best all the best for new assignment.
The villagers also remember his tenure and expressed their best wishes for the officer's new assignment as ehsildar Kargil.
On the occasion, the officer thanked all the Sub Divisional Officers and the general public for extending their cooperation during his tenure.