Sub-division Nubra, Khaltsi celebrates Rashtriya Ekta Diwas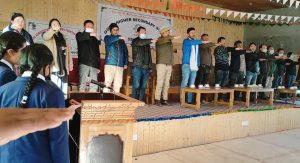 Leh, Oct 31: Sub-division Nubra and Khaltsi celebrated the occasion of National Unity Day/ Rashtriya Ekta Diwas, observed to mark the birth anniversary of Sardar Vallabhbhai Patel.
At Nubra sub-division, all the government employees took pledge and participated in the rally of Rashtriya Ekta Diwas for national unity in the presence of Sud-Divisional Magistrate, Nubra, Lakshay Singhal.
A cultural programme was also organised by the Govt Higher Secondary School, Diskit Nubra.
A similar programme was also conducted at the Khaltsi sub-division in which the government employees took the Rashtriya Ekta Diwas pledge.