Students of Bright Future Hostel Kargil visit LAHDC Kargil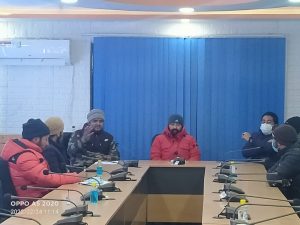 KARGIL, FEBRUARY 24, 2022: A group of students of Bright Future Hostel Kargil as part of an exposure tour today visited LAHDC Kargil Secretariat and interacted with the Acting CEC, Aga Syed Abbas Razvi and Executive Councillor Health, Mohsin Ali .
The students were informed by the concerned lawmakers about different aspects of LAHDC including its history, constitution, operations, contribution in administration, polity, legislature and other major aspects.
During the interaction, Razvi advised the students to remain dedicated to their studies and try to contribute in nation-building.
The students expressed zeal and satisfaction over the visit and said that it enhanced their knowledge related to the functioning of LAHDC Kargil.
Later, the students also visited Sher-e-Kashmir University of Agriculture Science and Technology (SkUAST) campus Kargil.