Stakeholders meeting on re-development of Old Bazar, Silk Route Kargil held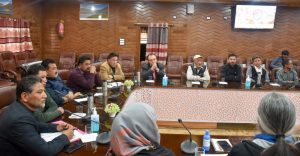 KARGIL, MAY 20, 2022: A stakeholders meeting on the re-development of Old Bazar and Silk Route Kargil was held today at Conference Hall, Baroo.
CEO KDA and ACR Kargil A G Zargar, Councilor Town Constituency Haji Muhammad Abbas, Executive Officer Municipal Committee Kargil Shafaqat Ali Khan, Gulzar Hussain Vice President MC Kargil, consultants of the project—Umar Faruq Khan, Sangita Vyas, Sheeba—landowners of Old Bazar and other concerned stakeholders were present during the meeting.
Detailed deliberation and discussion were held on the strategies and action plan for the heritage conservation of the Old Bazar Kargil.
During the meeting, lead consultants through a presentation made the participants understand the present development on the projects and detailed consultation and suggestions were taken from stakeholders to decide the future action plan.
CEO KDA A G Zargar said development can't happen in isolation and therefore, the cooperation of stakeholders is vital for completion of this project and development process should always remain in continuation. He said the work on this project will resume soon and in this regard, proper planning and due consultation is required.
Councilor Kargil Town Haji Muhammad Abbas said the project will increase the beauty of the heritage market and requested the stakeholders to participate in the project for its successful execution.
Architect and town planner Umar Faruq Khan said the preliminary report of the project will be submitted to the government after incorporating the suggestions of stakeholders. The project is aimed to develop the centuries-old heritage site into a tourist site.
Consultant Sangita Vyas said the project is one of the unique projects in South Asia and through which silk route history will be depicted in a unique way. She said tourism activity and living conditions can be improved by this project and it will be vital to understand the potential of this market.