SSP Leh inaugurates District Police Office at Saboo village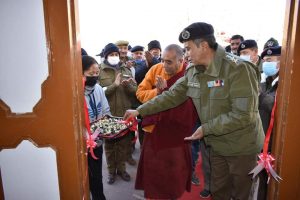 Leh, Dec 21: The new District Police Office was inaugurated in Saboo Ayu by Officiating Senior Superintendent of Police, Leh, Stanzin Nurboo in presence of senior Police officers from police Headquarters, UT Ladakh and other wings of Ladakh Police.
The office of the Superintendent of Police, District Leh has been shifted to a new location temporarily to Saboo Ayu located opposite Panchayat Ghar Saboo, in view of repair/ renovation of the old District Police Office at Leh. The office started functioning at Saboo on December 20.
The inaugural function was attended by local Sarpanch, Nambardar & other respectable citizens of Saboo village.
SSP, Leh, Stanzin Norboo inspected all the branches and directed all the in-charge to efficiently carry out the day to day office works.