Social Welfare Department Kargil organizes International Women's Day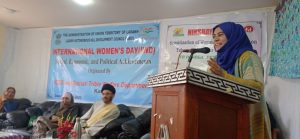 KARGIL, MARCH 08, 2022: ICDS and Social/Tribal Welfare Department today celebrated International Women's Day (IWD) at Cultural Academy Kargil which was attended by officers, officials besides supervisors and Aganwadi workers.
Executive Councilor Social Welfare Department, Aga Syed Armaan was the chief guest on the occasion. BDC Kargil, Khatija Bano, Project Officer ICDS, Nargiz Bano, District Social Welfare Officer, Aga Syed Jamal, CDPO, Syed Murtaza besides supervisors and Anganwadi workers and other concerned officials attended the program.
While speaking on the occasion, Aga Syed Armaan said women should be treated equally without any discrimination and expressed concern over the violation of the rights of women.
He said when women are empowered it will empower communities and society as a whole adding "we need to respect the rights of women and give them equal opportunities."
Nargis Bano congratulated women and appreciated the supervisors and Anganwadi workers for making the event successful. She also presented vote of thanks to participants.
On the occasion, Khatija Bano, BDC Kargil briefed about the political achievements of women in India and said women should be independent in order to excel in life and they should come forward.
She also said that women should take part in decision making and there should be no discrimination.
The BDC said when women are independent we all are independent and appealed to people not to differentiate between men and women and give equal rights to women.
Speaking on the occasion, Supervisor Sankoo, Maziya informed the audiences about different welfare schemes of ICDS being provided to all the blocks in the district.
CDPO Kargil Syed Murtaza in his welcome address congratulated women on the occasion of International Women's Day and highlighted the importance of women in society.
Farzana Batool, ECPS Kargil said women should speak up for their rights and their empowerment is essential for the growth of societies. She also talked in detail about several government schemes for the welfare of women.
On the occasion, District Medical Officer, Dr Fatima sensitized women about the tuberculosis disease and gave them awareness about how to fight TB in their communities.
She said early diagnosis and treatment was very important and briefed the participants about the national TB Program aiming at elimination of TB in India by 2025.
On the occasion, two Aganwadi workers Fatima of Minji village and Tswang Dolma of Rgyaling were felicitated for their exceptional contribution in the department.
IWD is a global holiday celebrated annually on March 8 to commemorate the cultural, political, and socioeconomic achievements of women.