SKUAST-J organises 5 days' workshop on Natural Farming 2022 Secy Ravinder emphasises production of quality produce suitable for export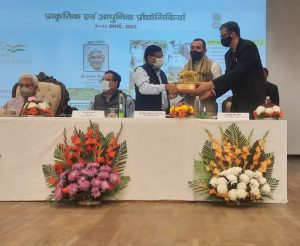 Leh, March 7: Administrative Secretary, UT Ladakh, Ravinder Kumar attended 5 days' workshop on Natural Farming 2022 organized by Sher- e – Kashmir University of Agriculture Science and Technology (SKUAST-J) in Jammu. He was chief guest for the technical session on export potential of agri products on the occasion today on March 7.
Ravinder Kumar while addressing the various dignitaries, scientists, officers of the department of Agriculture and students participating the workshop emphasised on the quality production of walnut, basmati and other organic produce by adopting various package and practices released by the SKUAST-J and other such agricultural research centers to achieve new heights in production of quality produce suitable for export.
Moreover, Secretary Ravinder also stressed upon sharing the research done by the scientists of SKUAST-J with the implementing agencies like Agriculture Department to establish high quality walnut orchards and age-old basmati rice seeds with the improved basmati rice seeds having export potentials. He added that this will not only help farmers to earn more income but may attract entrepreneurs to adopt agriculture as a commercial entity, thereby helping various unskilled labours to get employed locally.
Administrative Secretary also suggested to adopt some feasible areas as demonstration plots for creating awareness amongst the farmers and youths about the innovative technology. Also, he emphasised to transform agriculture into high tech and more profit generating entity having high export potential rather than self- subsistence type of agriculture.
Secretary was accompanied by the Chief Agriculture officer, Leh,Tashi Tsetan.