Sheep Husbandry Dept conducts valedictory function for Stock Assistant trainees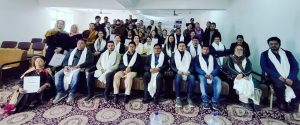 Leh, March 21: The Sheep Husbandry Department, Leh conducted a valedictory function for the Stock Assistant trainees (2021-22) of the Animal and Sheep Husbandry Department today. Executive Councillor, Animal/Sheep Husbandry, Tashi Namgyal presided over the event.
EC Tashi Namgyal congratulated the 29 trainees for successfully completing one year of training. He encouraged them to work hard and implement the learnings on the field. EC also appreciated both the Animal and Sheep Husbandry departments for their overall outstanding work execution in various blocks of the Leh district.
The event concluded with the distribution of certificates to the trainees and a vote of thanks.
District Sheep Husbandry Officer, Leh, Dr Tundup Namgyal; Deputy Director, Sheep Husbandry, Dr Tsewang Morup; Deputy Registrar Cooperatives, Leh, Dr Mohd Abbas and all the doctors of both the departments attended the event.