Sheep Husbandry Department holds awareness program at Heniskote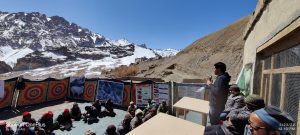 KARGIL, MARCH 23, 2022: Sheep Husbandry Department Kargil today organized an awareness camp at Heniskote village of Block Shakar-Chiktan.
Sarpanch, Nambardars and breeders of the area participated in the camp. The resource persons namely Dr Niaz Lone, PGF Khangral and Dr Anwar, BVO Chiktan of the department briefed the general public about the importance of rearing sheep and goat, their management and disease control.
The resource persons highlighted various schemes of the department. All the field staff of Shakar-Chiktan also participated in the camp.
In the end of the program, the PRI members demanded for the introduction of rarzi system for rearing of the flock.
Some of the public representatives also shared their views and expressed satisfaction for holding such an informative program.
They thanked Sheep Husbandry Department on behalf of the villagers for conducting such an awareness camp in their area and expected more such programs in the future.
In the end, several ailing animals were treated on spot by concerned doctors and provided necessary medicines available at FAC Heniskote and instructed the I/c SEC Stakchey to follow up the cases till complete recovery.