Self defence camp for girl students by Ladakh Taekwondo Association concludes at Shakar Chiktan Sub Division EC Mohsin Ali presents mementos to schools, outstanding students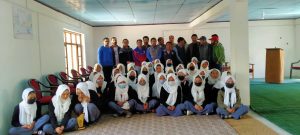 KARGIL, SEPTEMBER 30, 2021: Executive Councilor for Health and Agriculture Mohsin Ali who is also the Councillor of Chiktan Constituency in the LAHDC, Kargil today presided over the concluding function of the ten days long self defence camp for girl students of government higher secondary and high schools of Shakar Chiktan where he was the chief guest.
Principal Government Higher Secondary School (GHSS) Chiktan Hamid Khan was the guest of honour on the occasion.
The camp was organized by Ladakh Taekwondo Association under the aegis of Education Department Kargil under Samagra Shiksha Abhiyan and conducted by international player and coach of Ladakh Taekwondo Association Tashi Tundup and coach Shahnaz Parveen at GHSS Chiktan.
In his address EC Mohsin Ali while referring to the first international player of Ladakh UT Tashi Tundup urged upon the girl students to pursue sports as a profession which he stated has a greater and better scope in future. He also hailed Ladakh Taekwondo Association for conducting the self defence camp at all the government schools and expressed gratitude to the School Education Department for fulfilling the mission of PM Narendra Modi Beti Bachao Beti Padhao.
The principals and headmasters of the schools thanked the Chief Education Officer Kargil and Ladakh Taekwondo Association for conducting the self defence classes and urged the girl students to practice the tricks and techniques taught by the coaches regularly.
Meanwhile, EC Mohsin Ali on behalf of Ladakh Taekwondo Association presented mementos to each school and one of the outstanding student of each school.
General Secretary Ladakh Taekwondo Association Anayat Ali who also spoke on the occasion said that on behalf of the Ladakh Taekwondo Association he is thankful to the India Taekwondo, Chief Education Officer Kargil Nazir Ahmad Wani, principals and headmasters of the schools and coaches Tashi Tundup and Shahnaz Parveen for their support and contribution in making the camp successful.