Secy Tourism reviews status of arrangements for 26th Sindhu Darshan Yatra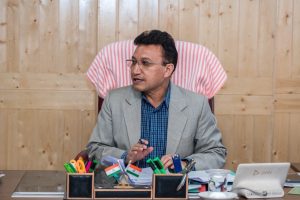 Leh, June 16: Secretary, Tourism, UT Ladakh, Kacho Mehboob Ali Khan chaired a meeting to review the status of development of infrastructure at Sindhu Ghat/Status of arrangements for the 26th Sindhu Darshan Yatra.
Every year Sindhu Darshan Yatra is celebrated on the banks of river SINDHU. Yatris, tourists and locals in every part of the country and other countries, participate with enthusiasm.
For smooth conduct of the yatra, the Secretary directed the concerned officers to make proper arrangements for water, sanitation, security, public address system, traffic management etc. at Sindhu Ghat and relevant locations around the location.
The Secretary directed the officers to ensure that all arrangements are in place well before the commencement of the yatra, i.e.; 23rd June 2022.
The Secretary directed the Deputy Commissioner/CEO, LAHDC, Leh to coordinate with the concerned organizations related to conducting the yatra.
The meeting was attended by Director Tourism, Ladakh; Director, RDD; Ladakh; Deputy Secretary, Culture; Leh; Dy. SP, Leh; CMO, Leh; AD, Tourism, Leh; Executive Engineer, LDA, Leh; Executive Engineer, Const. Div. Leh; CPO, Leh; and other concerned officials.
Following the meeting, the Secretary along with the concerned officers visited the Sindhu Ghat for a site inspection to ensure that quality and safety procedures are followed as per requirement.