Secy Tourism convenes meeting to discuss arrangement for Ladakh Nomadic Festival 2021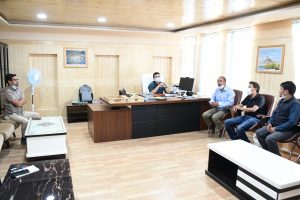 Leh, August 14: Secretary, Tourism and Culture, UT, Ladakh, Kacho Mehboob Ali Khan convened a meeting regarding the arrangement of Ladakh Nomadic Festival 2021. The festival is scheduled to be held at Korzok Phoo on August 30 & 31. The festival is organised by Ladakh Academy of Art, Culture and Languages, Leh.
While reviewing the arrangement, Secretary Kacho Mehboob said that the objective of holding the Festival is to help sustain the centuries-old tradition and culture of the people of the region. He further added that the aim is also to make them realize that their culture & lifestyle is unique which has their charm and significant place in the socio-cultural lives of the people of Ladakh besides providing a better platform to showcase their unique culture and traditions.
He said that besides promoting tourism and culture, the festival aims to acquire knowledge, skills and practices possessed with these unsung heroes and honour them.
This festival will be the first-ever Nomadic Festival and it was informed that people from all over Changthang are participating in the two-day mega festival.
Further, Tsewang Paljor, Deputy Secretary, Cultural Academy, Leh added that the Department is putting their best effort to showcase complete life, culture, practices and works of nomads during the festival thereby dedicating the same to Nomads of Changthang.
Any tourist/visitor who intends to play a role of a shepherd in taking the sheep and goats to mountains as the nomadic shepherd can contact All Ladakh Tours Operators Association for more information and help.
Secretary Kacho Mehboob requested all stockholders to collaborate and extend cooperation in making this two-day event a grand success. He also appealed to nomads residing at different places in the Changthang region to participate in the festival.
The meeting was attended by Tsewang Paljor, Deputy Secretary, Cultural Academy, Leh; Jigmet Namgyal, Assistant Director, Tourism Department, Leh and Delex Namgyal, President, All Ladakh Tour Operators Association.