Secy Sports convenes meeting with all Ice Hockey Stakeholders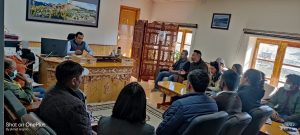 Leh, April 4: Secretary, Youth Services and Sports, UT Ladakh, Ravinder Dangi convened a meeting with all the Stakeholders associated with the development and promotion of Ice Hockey in UT Ladakh.
During the meeting, the representatives from the Ice Hockey Association raised issues of underdevelopment of Ice Hockey in UT Ladakh due to availability of only high-end products and non-availability of suppliers and delay in dispatching of equipment by the suppliers, lack of standard infrastructure at the block level and non-availability of professional coaches & referee.
The types of equipment/Infrastructure/Coaching/ Quota for Sportsperson & other issues were discussed and the Secretary assured those issues regarding the availability of only high-end products & delay in dispatching will be discussed with the suppliers and the funds will be provided for up-gradation of existing infrastructures at the block level.
Further, it was insisted that the administration will assist players to do certified courses outside Ladakh involving the development of professional and mentorship skills. The meeting was attended by officials of the Sports Department and the representatives of the Ice Hockey Association and Royal Enfield of UT Ladakh.