Secy Sports chairs meeting to discuss issues on formationof Sports Council & development of Sports infrastructure Priority will be given to national affiliated and winter sports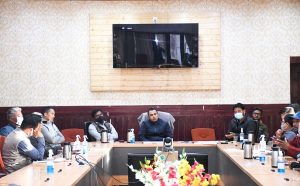 Leh, March 23: Secretary, Youth Services and Sports, UT Ladakh, Ravinder Kumar chaired a meeting on 22 March, to discuss various issues on the formation of the Sports Council and development of Sports infrastructure in UT Ladakh in the conference of Deputy Commissioner, Leh.
Representatives from registered sports associations raised several issues faced by them, including funds, proper coaching, infrastructure, formation of the sports council, types of equipment, jobs/posts for sportsperson, etc. They also briefed the Secretary about their performance so far at both national as well as international levels. Secretary, Ravinder gave a patient hearing and held a detailed discussion with the respective associations concerning the development of Sports infrastructure and other facilities.
The associations informed and submitted proposals to the Secretary for the creation of infrastructure, availability, annual event calendar, and other issues. Regarding the formation of the sports council, Secretary, Ravinder informed that a draft has been submitted to LAHDC and Deputy Commissioner, Leh. He emphasised that priority will be given to winter sports. Only the recognised and national affiliated sports associations will be given support from the administration. He also informed that the department will go through all the proposals and conduct meetings individually with the associations.
Talking about the event calendar, the Secretary directed the associations to come together and plan the events to avoid clashes. He mentioned that the event calendar must includethe date, place, and time of the event to be held along with thearrangements required. He said that these are important aspects of an event calendar and without these, the events won't be a success.
The Secretary urged to recruit young members as they have grown up around the technology and plays an important rolein driving the association forward in the adoption and use of new technology.
Emphasising coaching, the Secretary directed the associations to conduct coaching camps and proper trials to identify players at a young age. He also directed them to publicise the camps and trails to generate the correct amount of attention, to promote and build awareness regarding the camps.
The secretary encouraged the members to work hard and to be transparent. He also informed that the associations will be reviewed regularly and for those not working properly would be de-affiliated.
The Secretary while interacting with the associations assured them of all the possible support by the administration.
A similar kind of meeting will be held in the Kargil district soon.
Deputy Commissioner, Leh; OSD to Secretary, Sports; President, and representatives from all the registered sports associations participated in the meeting.