Secy, Social & Tribal Welfare Department, Ladakh Padma Angmo distributes winter kits to Children in Street Situations (CiSS)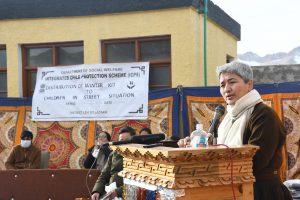 Leh, February 13: Secretary, Social & Tribal Welfare Department, Ladakh Padma Angmo distributed winter kits to children of migrant labourers in Leh today as part of the exercise to identify and protect Children in Street Situations. 29 children were handed over 'winter kits' comprising of winter clothes, drawing kits, mask and sanitiser bottle, by the Secretary Padma Angmo and Mission Director, Child protection Services, Kunzes Angmo at the office premise of District Child Protection Unit, Ibex Colony, Leh. The children were accompanied by their mothers.
Secretary, during her address stated that an open shelter will soon be established at Nari-Niketan in Ladakh so that day care facility may be extended to children in street situations where nutrition shall be provided to the children and art, crafts and educational activity shall be conducted. She also directed the District Child Protection Unit to organise a competition for the children and a medical camp in coordination with the Health Department in the last week of February.
MAZDA Union provided free transportation of the children from their place of residence to the venue for the event.
Chairman, Child Welfare Committee, Leh Nema Stanzin gave the welcome address, Member, Justice Juvenile Board, Abdur Rahim conducted the event and the Counsellor, District Child Protection Unit, Leh Dechen Angmo Paldan spoke on the importance of water sanitation and hygiene, attending school and Covid awareness.
District Child Protection Officer, Leh Tashi Chosdon and officials and staff of the Child protection Unit, Child Welfare Committee and Justice Juvenile Board, Leh were present at the occasion.