Secy RDD reviews status of execution of works under State/SDP in Leh district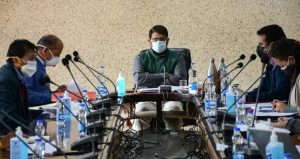 Leh, May 19: Works of the Rural Development Department must be completed substantially in this working season, directed Secretary, Rural Development Department, Saugat Biswas in a review meeting of the Rural Development Department today.
The meeting was attended by the Director, Rural Development Department; Block Development Officers, Executive Engineer, REW and other officers.
All works undertaken under the SDP and State Plan in district Leh were reviewed. Works allotted to the various Central Public Undertaking such as NHIDCL, NPCC and WAPCOS were given special focus.
Secretary, Biswas directed joint teams of the BDOs/JEs of RDD and the central PSUs to visit all sites of construction and resolve issues of disputes regarding each work and come up with common grounds for resolution of disputes at the earliest.
Executive Engineer, REW, Mohd Sadiq gave a detailed presentation of the works already undertaken and such works which need dispute redressal at various levels.
Director, Rural Development Department was directed to give clear instructions to all the field officials to remain at the headquarters and action should be taken against those officials who leave their stations without proper permission of the concerned authorities.
The PSUs were asked to get prototype design of the works approved by the Director RDD and start execution of the works immediately.
Executive Engineer, REW was directed to furnish the weekly report and the list of the works under SDP/State Sector which could not be taken up due to disputes or other reasons and also asked for the list of those works which have been completed and are ready for inauguration.
While reviewing the MGNREGA, the Secretary directed all the BDOs to make steady progress in MNREGA works while maintaining all COVID safety protocols.