Secy RDD Ladakh, Biswas meets department heads to devise roadmap for Devolution of Functions to PRIs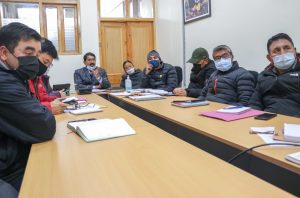 Leh December 8: Secretary, Rural Development and Panchayati Raj Department, Saugat Biswas convened a meeting today to chalk out ways and means to devolve more functions to the Panchayati Raj Institutions (PRI), thereby empowering them and bringing about decentralized development in the true sense.
District Panchayat Officer, Leh, Zakir Hussain gave an in-depth department-wise presentation on power and functions that needs to be delegated at different layers of the Panchayati Raj system.
During the meeting, specific functions under Halqa Panchayat for various departments including Agriculture/ Horticulture/ Animal/ Sheep/ Fisheries Departments; PHE, Irrigation, and Flood Control Development; Forest/ Social Forestry/ Ecology/ Environment Department; Tourist Department; Public Works (R&B) Department; PDD (Rural Electrification) Department; Health and Family Welfare Department; Social Welfare Department; Food Civil Supplies & CA Department; Education Department; Revenue/ Disaster Management Department; Disaster Management Department; Industries Department and Sports Department were discussed as per Schedule-1-A and 11-A respectively.
Secretary, Rural Development Department urged the heads of departments to develop an action plan for bringing about devolution of powers within the next seven days, and submit it to the Department of Rural Development. He also reiterated that the plans for blocks are to be prepared at the village level and for that Gram Sabha meetings have to be more effective so that all the functionaries of the department can share the vision. Also, he said that to accomplish the vision, ground-level officers and junior officers have to be in constant touch before and during Gram Sabha's meeting. Further, he added that integration processes are required to be taken and urged all the departments to put collaborative efforts for bringing about an effective devolution.
The meeting was attended by Chief Conservator of Forest, Ladakh; Director, Horticulture/Agriculture, Ladakh; Deputy Commissioner, Leh/Kargil; Director, School Education, Ladakh; Director, Industries & Commerce, Ladakh; Director, Rural Development, Ladakh; Director, Health Services, Ladakh; Director, Tourism, Ladakh; Director, Animal & Sheep Husbandry/ Fisheries, Ladakh; Chief Engineer, PHE/ I&FC, Ladakh; Chief Engineer, PW(R&B), Ladakh; District Programme Officer, ICDS, Leh/ Kargil; District Panchayat Officer, Leh/ Kargil; District Social Welfare Officer, Leh/Kargil and Assistant Director, FCS& CA, Leh/Kargil.