Secy Ravinder reviews progress of work in Cooperative Dept & to make Super Bazar, Sale Outlets for remote area supply.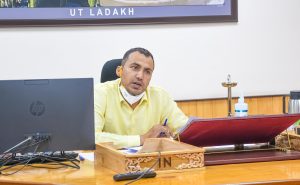 Leh, July 28: Secretary, Cooperative, Ravinder Kumar, today chaired a meeting of the cooperative department to review the pace of progress on the status of ongoing/ new work; SDP/ State/ Changthang Development package (physical & financial progress); status of priority works, expenditure by the end of the first quarter and anticipated expenses by the second quarter achieved by the Cooperative Department & to make Super Bazar, Sale outlets for remote area supply.
Secretary Cooperative reviewed the physical and financial status of the ongoing work of the first quarter. There was discussion on the ongoing and new SDP, AA cost with AA status, allotment cost, outlay, release, expenditure of financial year under the Cooperative Department's SDP for 2021-22.
The concerned officials apprised Secretary Cooperative of the status of priority work. The officials also informed him about the action taken, including cold storage, PDS, winter vegetable supplies, pashmina procurement, revive cooperatives, election and audit, etc.
Secretary Cooperative directed the concerned officers to give a quarterly progress report and asked the officers to process tenders and allot the work at the earliest.
He inquired from the concerned officials of the issues faced by them. He directed them to write an application to the director of the executing agencies regarding the expenditure and provide the booking status. He further asked the concerned officials to book expenditure and complete the work by the end of August.
Secretary Cooperative also highlighted and directed the concerned officials about the large area certification to be done by Prime Minister for organic farming. Sharing the target of 10,000 hectares of land, Secretary Ravinder directed the concerned officials to identify the place and plan, exclusively explore the areas where fertilisers have been distributed.
Secretary Ravinder directed the concerned official to prepare a plan in case of dairy cooperation and held meetings regularly and discuss the issues etc
Dr Mohd Raza, Additional Registrar Cooperative, UT Ladakh; Tsering Angdu, Deputy Director , PD&MD; Dr Stanzin Thakchos, OSD to Secretary; Dr Mohammad Abbas, Deputy Registrar Cooperative, Leh; Dr Zakir Hussain Deputy Registrar Cooperative, Kargil attended the meeting.