Secy Ravinder reviews progress of work in Changthang Development Package and Winter Planning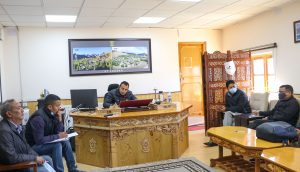 Leh, Oct 21: Administrative Secretary, Ladakh, Ravinder Kumar, today chaired a review meeting of departments viz., Animal and Sheep Husbandry, Horticulture, Youth Service & Sports regarding Changthang Development Package at the UT Secretariat.
During the review meeting, the officers of the concerned department apprised Secretary regarding major works being taken under the Changthang Development Package and directed the executing agencies like CPWD and PWD to allot the work and book expenditures well on time before the end of third quarter.
The secretary also directed the officers concerned of Planning and Finance Departments have been directed to release the 100%funds in order to achieve the targets.
At last, the Departments have been directed to persistently follow up the works under the package and to submit the progress report regularly.
In next round of meeting, the secretary Ravinder chaired a meeting regarding winter planning and preparation of the Cooperative and Animal/Sheep Husbandry Department.
The additional secretary and concerned officers of Cooperative Department apprised secretary about the current position of stocking of essential commodities and planning for procurement of fresh vegetables during the winter through air cargo. He directed the officials to conduct a market assessment and prepare a demand of the essential commodities before the next meeting.
The Director Animal/Sheep Husbandry and Fisheries Department submitted that stocking of animal feed and other essential commodities of the department is under way and shall be completed well on time.
The meeting was attended by Director Animal/Sheep Husbandry & Fisheries, UT Ladakh; Additional Registrar Cooperative UT Ladakh; Chief Animal Husbandry Officer, Leh; Chief Horticulture Officer, Leh; Executive Engineer, CPWD, UT Ladakh; AEE, CPWD, Leh; District Youth Services and Sports Officer, Leh and other officials were also present.