Secy Ravinder discusses energy efficiency plan with UT Departments, conservations for Ladakh with EESL team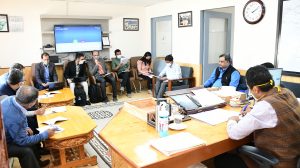 Leh, July 09: Secretary, Power Distribution Department (PDD) & New Renewable Energy (NRE), Ravinder Kumar, today convened a meeting with the Energy Efficiency Services Limited (EESL) team and Bureau of Energy Efficiency (BEE) regarding energy efficiency and energy conservations for UT Ladakh.
The corporate-driven programme (CDP) of EESL proposed an action plan on energy efficiency and energy conservations for the Leh district, including programmes such as the energy-efficient appliance programme that includes energy-efficient appliances and LED lighting solutions for grid-connected and off-grid consumers, solar-based LED study lamps for students and solar-based home lighting system for off-grid consumers.
The concerned officials added that the energy-efficient outdoor lighting programme includes LED outdoor lighting solutions for urban and rural areas, solar-based LED street Lights for rural areas. Similarly, the energy-efficient space heating programme includes government schools and public offices. Energy efficiency monitoring includes government department SDA.
Secretary Ravinder and the officials discussed the proposal, including deliberations on the number of solar lamps in schools that could be initiated. Secretary Ravinder shared that based on the data provided by the Rural Department, the number of home lighting systems for remote nomadic areas could be initiated. He added that the concerned department would conduct a demo of the heating system in schools and dispensaries.
Secretary Ravinder directed all the departments to review and comment on the proposal submitted by EESL to add value to the programme. He also asked the departments to share their plans and budget for the same.
Chief Engineer, Mechanical Engineering Department; Director, Rural Development Department; Director, Health Services and Medical Education; Chief Engineer, Superintending Engineer & Technical Officer, Power Distribution Department; Executive Engineer, Public Works Department, UT Ladakh; Chief Engineer, Mechanical Division, UT Ladakh; Project Director LREDA; Head Sales & PR, Head CDP, Senior Manager and PR of EESL; Project Engineer & Joint Director, Bureau of Energy Efficiency, were present in the meeting.