Secy Power reviews various works under DDUGJY & PMDP-R schemes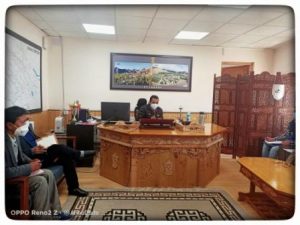 Leh, May 28: Secretary, Power, Ravinder Kumar, today chaired a meeting to take stock of the progress of ongoing works under DDUGJY and PMDP-R schemes at his office chamber.
Chief Engineer, PDD G A Mir, Superintending Engineer Power Distribution Tsewang Paljor, Chief Manager PGCIL Sukhdev, XEN Project Division, Abdul Rehman Butt, Deputy Manager PGCIL, and other officials of PDD and PGCIL attended the meeting.
Threadbare discussions took place on various issues related to the various ongoing works executed by PGCIL. The officials also discussed issues related to the transmission line work from Durbuk to Shyok.
Secretary Power directed the Chief Manager of PGCIL to increase labourer at various project sites due to Covid -19 restrictions. He also impressed upon them to make arrangements for the labourer to stay at the worksite to reduce their movement to other areas.
Secretary Power further instructed PGCIL to minimise the movement of vehicles carrying construction material for substation and transmission lines works. He asked the PGCIL officials to dump and stock the material at the worksite. He also instructed PGCIL to start the work of the Durbuk to the Shyok transmission line after getting permission from the GREF authorities.
Earlier, the Chief Manager of PGCIL apprised Secretary Power of various issues related to the movement of labour and material and issuance of curfew pass for the employees dealing with the various works at the project site.