Secy Power Ravinder reviews progress of works at Dah & Hanu HEP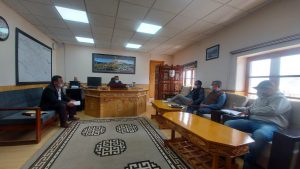 Leh, June 24: Secretary, Power, Ravinder Kumar, today chaired a meeting to review the progress of work at 9 MW Dah hydroelectric power (HEP), 9 MW Hanu HEP and 66 kV Dah-Hanu to Khaltsi transmission line.
Secretary Power highlighted the delay of projects due to various reasons but impressed upon the Executive Director not to delay the project work further.
He also directed JKSPDC to complete the project at the earliest. Secretary Ravinder exhorted the Chief Engineer PDD to reimburse the payment to JKSPDC to reimburse the payment at the earliest to avoid delay of project work.
A few days ago, Secretary Ravinder had asked JKPDC to send an officer to Leh to review the progress of execution of works at Dah and Hanu project sites for completing work at these sites within the stipulated timeframe.
Earlier, Executive Director, JKSPDC, shared the status of the work at Dah and Hanu sites. He apprised Secretary Ravinder of the need to monitor, plan at the micro-level to achieve the target completion by December and the need to depute an Executive Engineer and AEEs to the concerned divisions to supervise these projects.
The Executive Director also expressed interest on behalf of JKSPDC to take up some Hydro Projects on mutually agreed conditions with the UT of Ladakh. Secretary Power assured to take necessary actions.
Executive Director, JKPDC Manjeet Kotwal, Chief Engineer PDD G A Mir, CPE Power Hydel Wing, Kargil Nissar Kakapori, XEN PDC and other officers of PDD attended the meeting.