Secy IT Ladakh convenes meeting to discuss NOFN VSAT status of UT Ladakh.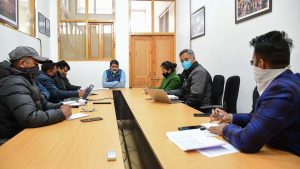 Leh : Secretary Information Technology, Ladakh, Saugat Biswas chaired a meeting to discuss the National Optical Fibre Network (NOFN) VSAT status of UT Ladakh, at the Secretariat today.
The meeting discussed the solar material approval to VTIPL, pending at BSNL end for 3 sites and TOC (Taken over certificate) issues of VSAT equipment at 22 Gram Panchayat sites.
Secretary was informed that a total of 172 sites are there in Leh and Kargil. Secretary, Saugat directed BDOs to finalise the remaining 5 sites in Leh and 4 sites in Thiksay and expedite the work of handing over to Gram Panchayats within a month. Also, he directed the officials to visit every site in Leh and Kargil.
The meeting was attended by General Manager, Bharat Sanchar Nigam Limited, Ladakh; Tsering Wangchuk, BDO, Chushot: Padma Angmo, BDO Chushot; Suman Kumar Katal, BDO, Nimmo; Shivam Saxena and Project Manager, VTIPL, New Delhi.