Secy Information chairs Empanelment of Multimedia Creative Agencies for UT Ladakh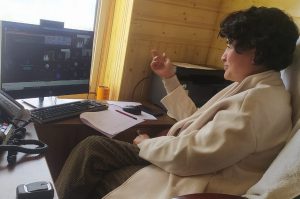 Leh, May 12: Under the chairmanship of Padma Angmo, Secretary Information, UT Ladakh, the second round of empanelment of Multimedia Creative Agencies/ Applicants was conducted today through video conferencing.
The first round of the empanelment was held last month on April 19. A total of 30 media agencies applied for the empanelment with the Department of Information, UT Ladakh. The empanelled agencies shall produce creatives for print, electronic, social and outdoor media for the Administration of UT Ladakh and District Administration of Leh and Kargil.
The creative messaging is for effective communication and dissemination of government welfare schemes to the public in various domains like health and sanitation, education, agriculture, employment, women empowerment, environment and promoting tourism, culture and heritage of Ladakh through different mediums from time to time.
Kunzes Angmo, Director, Tourism; Mumtaz Ali, Director, Social & Tribal Welfare; Ghulam Nabi Tak, A.D (I&PR), Leh and Mohd Ali Tak, A.D (I&PR) Kargil, Dr Thupstan Norboo, Editor, Cultural Academy and Phonsok Ladakhi, Actor/ Film-Maker are the members of the Empanelment Committee. Suhail Ahmed, Dy. Director Information also attended the VC.