Secy Animal Husbandry visits Russian Merino Sheep Farm at Matho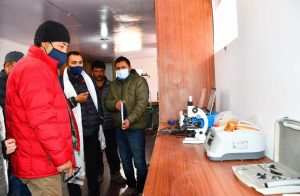 Leh, Nov 9: Secretary, Animal/ Sheep Husbandry and Fisheries, Ravinder Kumar, today inaugurated the diagnostic lab during his visit to the Sheep Husbandry Russian Merino Sheep Farm at Matho.
Director, Sheep Husbandry, Ladakh, Dr Mohammad Raza and various departmental officers accompanied Secretary Ravinder during the visit.
Secretary Ravinder was apprised of the installation of the electro-cautery unit, laser therapy device, veterinary digital x-ray unit and veterinary ultrasound unit at the diagnostic lab at the farm clinic among other equipment to aid in rapid diagnosis and effective livestock treatment at the farm.
During his interaction with the concerned officials, Secretary Ravinder was apprised of the infrastructure development, livestock improvement endeavour, capacity building, diagnostic lab and fodder development.
Dr Raza apprised Secretary Ravinder that the proposal for importing purebred Merino sheep for both Kargil and Leh districts is being conceived and actively pursued at the directorate level and taken up with the Ministry for improving local merino sheep productivity.
Secretary Ravinder emphasised the need for imparting technical training in diagnostics and clinical subjects to the officers of the department for improving the service quality and efficiency of the department. He instructed the concerned officials to reflect the need for training and capacity building in the forthcoming budget proposals.