Secy Animal Husbandry visits Foot and Mouth Disease affected areas of Chuchot Block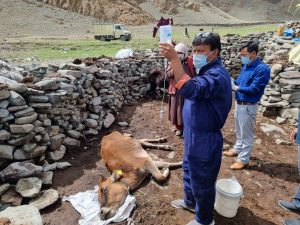 Leh, July 30: Secretary Animal/Sheep Husbandry and Fisheries, Ravinder Kumar, today, visited the foot and mouth disease affected areas of Tuchik Highland pasture of Chushot Block. He was accompanied by Dr Mohd Iqbal, Chief Animal Husbandry Officer, Leh and Dr Tundup Namgail, District Sheep Husbandry Officer, Leh.
Tuchik is a highland pasture between Matho and Stok Village, where 9 households rear cattle, sheep and goats.
During the visit, he interacted with the livestock herders of the community affected by FMD as well as field functionaries of the Animal and Sheep Husbandry Department camping at the location for treatment of the affected animal flocks.
The Secretary was apprised that the situation has stabilized in the affected area and adequate medicines were available. He was further informed that staff have been deputed at the site for the last 30 days. All the nearby unaffected villages in the vicinity have been vaccinated against FMD (Ring Vaccination) as soon as the disease was reported in the community.
More than 20,000 cattle and 2 lacs sheep/goats in the Leh District are vaccinated till date and the remaining animals are targeted to be covered within 15 days.
The Secretary instructed both the Department to make further arrangements for additional feed and fodder for the affected flocks and provide tents for households in the area. Besides, also directed to ensure a standard line of treatment to the affected animals and vaccination amongst unaffected animals.
Additionally, the UT Administration is in the process of preparing the list of herders affected due to the outbreak of FMD, for providing compensation to the affected families in both the Districts of UT Ladakh.
Later, the Secretary has directed the department to create awareness and sensitize the farmers/herders regarding do's and dont's and to follow the Standard Operating Procedure (SOPs) for containment of the disease.