Secy Agriculture and Horticulture chairs meeting regarding the management of yellow/brown tail moth infestation in Ladakh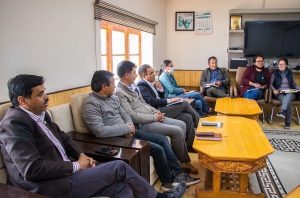 Leh, March 4: Secretary, Agriculture, and Horticulture, UT Ladakh, Ravinder Kumar chaired a meeting to assess the current situation of yellow/brown tail moth infestation and management of these defoliator insects.
During the meeting, the Secretary directed the officials to evaluate and identify the damage percentage of the defoliating pests in Tyakshi village. He also addeddeveloping suitable management strategies by using non-chemical and organic pesticides to be done at the earliest besides adopting mechanical control strategies like mechanical pruning of infested twigs and disposal as per the standard protocol. The secretary has also directed the concerned officials of Kargil district to keep a vigil and preparation for the emergence of any kind of such infestation.
He also stressed on providing PPE Kit, gloves, and masks for the safety of the users to avoid allergies while dealing with the infestation in field.
Secretary further emphasised on conducting awareness camps for the management of defoliators and directed that Orchard sanitisation should be carried out in every village and instructed the officials to destroy the overwinter moth webs as soon as possible.
The Secretary stated that a technical team/expert from research institutes like DIHAR and SKUAST along with officials from Horticulture, Agriculture and Forestdepartments to conduct a tour of Tyakshi village within two days and submit the rep
The meeting was attended by Director, DIHAR, Chief Agriculture Officer, Leh; DFO, Leh ; Chief Horticulture Officer, Leh and Kargil;; Senior Scientist, DIHAR; Scientists from SKUAST, Leh; and Programme Assistant, KVK, SKUAST.