Secretary Sports takes stock of sports infrastructure in Chushot Block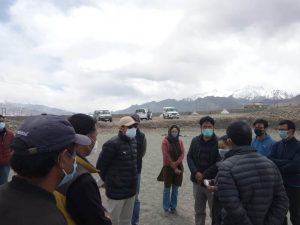 Leh, May,17: Secretary Youth Services and Sports, Ravinder Kumar, today visited various govt schools in Chuchot Block of Leh District to take stock of the sports infrastructure available to the students.
During the inspection at Govt High School Matho, Secretary directed the Block Development Officer and concerned officials to complete the work within the current season without any further delay.
Later, Secretary visited and inspected the works being carried out at High School Gongma, Higher Secondary School Shamma and High School Yokma of the Chuchot Block.
While visiting the Govt. Higher Secondary School Shamma. Secretary directed to prepare a football ground and archery field with proper dimensions and facilities for changing room and seating arrangements.
Moreover, it was informed that a new ice hockey rink for Chuchot Block is expected to be completed within the current season.
Secretary Ravinder further asked the concerned department and executing agency to submit proposals for extensions on time so that funds provisions can be made. He directed all the concerned officials of the Rural Development Department (RDD) and Youth Services and Sports to expedite the work on priority basis.
It was informed that the secretary would be taking another round of inspection cum review tour in the next month.
Secretary, Ravinder was accompanied by Block Development Officer Padma Angmo; OSD to Secretary, Dr. Stanzin Thakchos; Tsering Tashi, DYSSO Leh; officials of Youth Services and Sports Department and Rural Development Department.