Secretary Rural Development, Ladakh Saugat Biswas chairs review meeting of RDD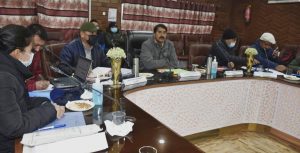 KARGIL, DECEMBER 13, 2021: Divisional Commissioner and Secretary Rural Development Department Ladakh Saugat Biswas yesterday chaired a review meeting of RDD at Kargil.
Director Rural Development Department Tahir Hussain Zubdavi, Additional Deputy Commissioner (ADC) Kargil Tsering Motup, Assistant Commissioner Development (ACD), Kargil, Ghulam Muhammad, District Panchayat Officer Kargil, Executive Engineer PDD, Executive Engineer (REW), all Block Development Officers, concerned Assistant Executive/Assistant Engineers of REW besides other concerned officers were present in the meeting.
During the meeting, detailed discussion and deliberations were held on various schemes of the department and the Secretary RDD also reviewed status and progress of developmental works.
Saugat Biswas took detailed review of developmental works under SDP and State Sector, Integrated Watershed Management Projects (IWMP), Swachh Bharat Mission-Grameen (SBM-G) Phase-II, MGNREGA/PMAY-G, NRLMand other allied works and schemes.
During the meeting, Secretary was informed that under SDP, out of 51 Crores 87 lakhs, the total expenditure in the district till November ending is 31 crore 49 lakhs approximately.
Biswas stressed regarding the construction of buildings for which a holistic DPR should be framed which should have provisions of electricity and water supply.
He further added ways and means to be taken on priority to avail heating and water facilities round the year without any hindrance to the government offices.
The Secretary, RDD also directed to complete the water supply works of BDO office Sodh at earliest.
During the meeting, Biswas took assessment of works from concerned engineers and directed that estimation and DPR should be made as per field conditions.
Regarding establishment of Offices Block Development Councils, the Secretary RDD was informed that out of 5 BDC offices, 3 have been completed and 2 offices are at finishing level.
Considering the requirement of solar power systems for the institutions and offices of RDD, Saugat Biswas said that payments should be released as per the completed works by 21st of December.
Biswas also took assessment of Solid Waste Management centres, status of RSETI centre, public utility works, public parks, MNREGA and other works.
During the meeting, the Secretary directed to find ways and means for the increment in salaries of Technical Assistants working under MGNREGA scheme.
Earlier Saugat Biswas interacted with the Self Health Group (SHG) workers of National Rural Livelihood Mission (NRLM) scheme of all the five blocks including Sodh, Kargil, TSG, Barsoo and Sankoo.
He asserted to link all individual accounts of SHG workers with banks and head count should also get increased. He also stressed the need to increase revolving fund and CIF.
He stressed on focusing on standardization, packaging and marketing of the products made by the SHG workers.
He further directed to provide Apricot Processing Machine for SHGs and the concerned officers were directed to find the feasibility of collaboration of Hotel Industry and SHG workers for purchase of vegetables and other products during winters.
The Secretary RDD also took assessment of the training provided by RSETI to the SHG workers.
Later, Secretary, Biswas directed the concerned officers to work with dedication and also hailed the importance of RDD in transformation of rural areas.