Secretary Ravinder visits Solar Water Pump Chanigund installed by KREDA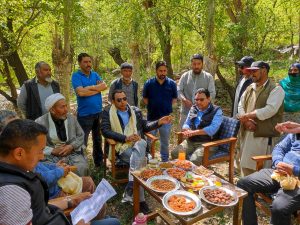 KARGIL, May 18, 2022: Secretary, Power Development Department and New and Renewable Energy, UT Ladakh Ravinder Kumar Dangi today visited 5 HP Solar Water Lifting Pump at Chanigund which has been installed by KREDA Kargil within a record time of three days.
On the directions of the Secretary, the Solar Water Lifting Pump has been installed on a war-footing basis within a short time for the benefit of farmers and to irrigate fields.
Project Director KREDA along with team of engineers, experts and technicians put their manpower and machinery on job and installed the Solar Water Lifting Pump at a height of 40 metres in 1st phase for the purpose of land irrigation.
The Secretary accompanied by Chief Engineer PDD and Project Director KREDA, visited the area where villagers including women and children welcomed and thanked the Secretary, Project Director KREDA and his team for enabling them to save trees and standing crops.
The villagers also requested them to complete the project by enhancing capacity of the pump and extending the project up to the irrigation pond and above which may cover leftover agriculture and fodder land including trees. The pump could also be used as an alternative source and supportive line for irrigation.
Gond hamlet of Chanigund village consisting over 20 households own around 800 kanals of irrigated land and more than 5,000 trees comprising apricot, apple, poplar, willow and juniper trees which were facing water scarcity.
Most of the standing crops were already damaged resulting in huge economic loss. The people including women folk of the area represented to the Secretary during his visit to Drass sub-division for arrangement of water for irrigation in view of the drought situation.