Secretary Ravinder visits Sankoo, takes stock of work progress of different departments under his charge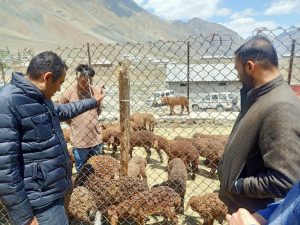 KARGIL, MAY 14, 2022: Secretary, Cooperatives, Power, Animal/Sheep Husbandry, Fisheries, Horticulture/Agriculture Department, UT Ladakh, Ravinder Kumar Dangi on Friday reviewed functioning of different departments under his charge in Sankoo subdivision in Kargil district.
The Secretary was accompanied by Deputy Commissioner/CEO, LAHDC, Kargil Santosh Sukhadeve, Director Animal Husbandry, Dr Raza Ali, Chief Horticulture Officer, Chief Agriculture Officer, Deputy Registrar Cooperatives, Chief Animal Husbandry Officer, Chief Sheep Husbandry Officer, Ad Fisheries, officials of DYSSO and other concerned officers.
The Secretary visited apple orchards at TSG Block and appreciated the department over light traps, which has proved effective in protecting the apples from codling moth disease.
Secretary Ravinder visited greenhouses of SHGs at TSG block and took stock of various vegetables being produced by the SHGs and expressed satisfaction over the progress of SHGs.
He also visited Karakul Sheep Farm at Khumbuthang. The Secretary also reviewed pace of work progress at newly developing laboratory cum office complex of Animal Husbandry at Choskore, Panikhar.
Being the Sports Secretary, Ravinder also visited basketball code and playgrounds at schools in TSG Block and Government High School Kargee, Suru.
While interacting with the students he instructed to play sports that are recognized at National and International level championship like Olympics.
The Secretary power also visited the 1.0 MW Chilong Small Hydro Power Project at Taisuru. He also interacted with public at TSG Block and Parkachik and enquired them about power supply and further instructed the concerned officers to ensure uninterrupted power supply.
He further instructed to conduct village-level meetings to identify the pain points in power supply. Later, the Secretary visited the fish farm at Damsna and took stock of fish farming.