Secretary Ravinder visits Kargil, takes stock of development projects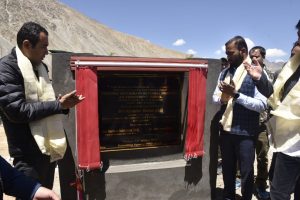 KARGIL, MAY 14, 2022: Secretary, Cooperatives, Power, Animal/Sheep Husbandry, Fisheries, Horticulture/Agriculture Department, UT Ladakh, Ravinder Kumar Dangi today visited Kargil to take stock of development projects being executed by different departments.
He was accompanied by Deputy Commissioner/CEO, LAHDC, Kargil Santosh Sukhadeve, Director Animal Sheep Husbandry and Fisheries Department, Dr Muhammad Raza, Chief Engineer PDD UT Ladakh, SE Nisar Ahmad, SE Tashi of Irrigation Department, Chief Horticulture Officer, Chief Agriculture Officer, Deputy Registrar Cooperatives, Chief Animal Husbandry Officer, Chief Sheep Husbandry Officer, Deputy Director Fisheries, Executive Engineers of PDD and PDC, officials of DYSSO and other concerned officers and officials.
The Secretary along with the district officers and officials visited Solar Green House Ashiana, T&G Block at Agriculture Complex Kurbathang and inaugurated the High Tech Green Houses. It was informed that two out of four High Tech Green Houses have been completed.
The Secretary also laid the foundation stone of Central Veterinary Referral Hospital AH Department Kargil which will be constructed at a cost of Rs 3.30 crores under SDP scheme
Secretary Ravinder also visited Cattle Breed Farm Kurbathang where he interacted with the officials of the Animal Husbandry Department.
He also visited under-construction sports stadium TSG and directed the concerned executing agency to compete the pending works including its fencing at the earliest.
The Secretary said the stadium will be having state-of-art facilities and every facility will be made ready after proper planning.
He also said that the place is suitable for high altitude training. The contractor of the concerned agency informed that the ground will be completed by September this year.
Secretary Ravinder also visited the under-construction Ice Hockey Rink Kurbathang and directed to install lighting and use solar system. Later, he also visited Youth Hostel and Ice Hockey Rink Bemathang and took review of the development works.