Secretary Ravinder reviews action plan of Horticulture department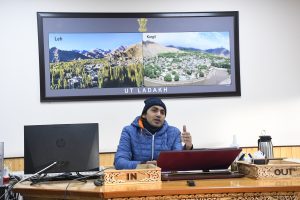 Leh, January 27: An important meeting was chaired by Secretary Agriculture/Horticulture, UT Ladakh, Ravinder Kumar on January 24, 2022 at the Civil Secretariat, regarding the launch of the Codling Moth Control Programme and area expansion for the horticulture sector in UT Ladakh.
The meeting commenced with the Secretary, Horticulture reviewing previous works and feedback from the Research institutes and Department regarding work done in controlling the menace of codling moth in Ladakh.
The Secretary was apprised that the SKUAST-K and DIHAR in collaboration with the Horticulture Department have already initiated a pilot programme to control the codling moth using organic methods.
Further, the Horticulture Department, UT Ladakh, shall organize training for the departmental staff and skilled farmers to be trained in DIHAR before the programme's launch and form a task force to launch the programme on mission mode.
The Chief Horticulture Officer Leh has submitted that all the tools and items have been procured under the codling moth control and orchard sanitization programme which shall be distributed amongst the progressive farmers after imparting proper training.
During the meeting, the Secretary directed the Horticulture Department Leh and Kargil to prepare an action plan for the upcoming season in coordination with the concerned research institutes for the timely launch of the programme.
The Department in collaboration with the research institute has also been instructed to prepare short video clips and pamphlets for distribution amongst the farmers and make them aware of the seriousness of the codling moth issue as well as the importance of organic farming.
The exporters have conveyed that codling moth is affecting the market value of the product and the problem needs to be addressed at the earliest to establish the brand Ladakh at the national and international level. For area expansion and engaging local youths into the sector, the Department has been asked to include the tissue culture to produce mass sapling on priority, micro-irrigation system and exposure/training to the departmental technicians and progressive farmers.
The meeting was attended by Director DIHAR, Dr Namgyal; Associate Director, SKUAST-K Leh; Chief Horticulture Officer, Leh and Kargil; Senior scientist and scientist from DIHAR and SKUAST and entrepreneurs/exporters.