Secretary Ravinder Kumar reviews the launch of codling moth control and orchard sanitisation programme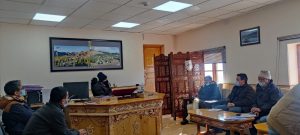 Leh, January 13: Secretary, Agriculture and Horticulture Department, Ravinder Kumar chaired an important meeting on the launch of the codling moth control and orchard sanitisation programme on mission mode in the Union Territory of Ladakh.
During the meeting, the Secretary directed the Horticulture Department and research institutes like DIHAR and SKUAST to formulate an action plan to launch the codling moth control programme before the upcoming spring season. He has also directed the conduction of training to the progressive farmers and departmental staff before the launch of the programme. As UT Ladakh is moving towards becoming a completely organic State, the menace of the codling moth shall be controlled through organic methods and techniques.
The Secretary was apprised about the tool and items procured for the programme which shall be distributed amongst the progressive farmers. The research institute in coordination with the Horticulture and Agriculture Department shall continuously monitor and study the effect of the mission mode programme in areas with high production.
The Secretary also directed the Horticulture Department to include area expansion programmes like Tissue Culture and Micro Irrigation System in the next financial year and asked the department to focus and work on entrepreneurship models in the sector. Further, the Horticulture Department has been asked to work on extension programmes by creating short video clips and pamphlets in the local language for the benefit of the farmers.
Additionally, the department has been asked to plan a tour programme of progressive farmers and departmental staff to visit high-density large-scale production areas in Kashmir or Himachal Pradesh before the start of the next season.
The meeting was attended by the Director, Associate Director and Scientists of DIHAR, SKUAST Leh, officials of Horticulture Department Leh/Kargil and entrepreneurs dealing in export.