Secretary Ravinder inaugurates volleyball, basketball court at Kargil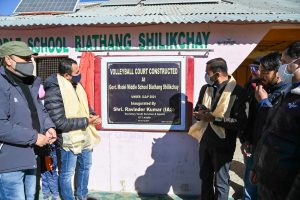 KARGIL, DECEMBER 03, 2021: Secretary Youth Services and Sports Ladakh Ravinder Kumar inaugurated volleyball and basketball court at Government Middle school Biathang Shilikchey and High School Baroo respectively here today.
Deputy Commissioner and CEO LAHDC Kargil Santosh Sukhadeve, Chief Engineer PDD Ladakh (Distribution Wing) Ghulam Ahmed Mir, Director Animal and Sheep Husbandry Ladakh Dr Muhammad Raza Abas, District Youth Services and Sports Officer Muhammad Hussain Rehnuma besides other concerned officers were also present during the inaugural session.
Speaking on the occasion, Secretary Ravinder Kumar informed that the UT Administration is committed to provide modern sport related facilities, infrastructure and equipment to the students of the entire Ladakh region.
He further mentioned that work related to development of sports infrastructure has already been initiated.
The Secretary emphasized that students should opt for Olympic listed games and put their efforts to turn passion into profession so that they excel in sports at national and international level
He said keeping in view the geographical and climatic conditions of Ladakh, winter sports like ice hockey, ice skating, ice skiing have much potential to develop in all aspects and he further mentioned that measures have already been taken for the upliftment of sports infrastructure .
A charter of demands was put forth with the Secretary which includes development of multipurpose ground for various games, indoor stadium, separate ground for girl students, modern equipment for different sports and other sports-related facilities. He gave a patience hearing to all projected demands and assured necessary steps on priority basis.
A cultural program was presented by the students of Government Middle school Biathang Shilikchey which enthralled the audience.
Later, the Secretary chaired a meeting with concerned district officers at the Deputy Commissioner's office at Baroo.
The meeting was attended by Deputy Commissioner and CEO, LAHDC, Kargil Santosh Sukhadeve, Chief Engineer PDD, Superintending Engineer PWD, Assistant Commissioner Development, Chief Planning Officer, Chief Agriculture Officer, Chief Horticulture Officer, Chief Animal Husbandry Officer, Chief Sheep Husbandry Officer, Executive Engineer R&B, Executive Engineer I&FC besides other concerned officers.
The Secretary took stock of progress of various ongoing projects under different departments and instructed them to accelerate the pace of progress. He further directed to book the expenditure for the projects.
Meanwhile, the Secretary visited the newly developed Control Room of PDD at Kurbathang and took stock of progress of the installation. Further he visited the demarcated land for construction of sports stadium at Kurbathang.
Later, the Secretary visited the newly built ice hockey rink and took stock of the pace of work where the concerned officers informed the Secretary about the future plan of action on the site.