Secretary Ravinder chairs review meeting of PDD ongoing schemes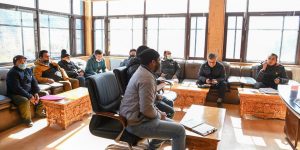 KARGIL, DECEMBER 03, 2021: Administrative Secretary Power Development Department (PDD) Ladakh Ravinder Kumar today chaired a review meeting of all ongoing schemes of the department.
The meeting was attended by Chief Engineer (Distribution wing) Ladakh Ghulam Ahmed Mir, Executive Engineer Sub Transmission Division Wahab Ali, Executive Engineer Electric Distribution Division Altaf Hussain, Executive Engineer Electric Project Division Feroz Ahmed Wani, Executive Engineer Civil Contribution Division 1st Abdul Mutalib, Executive Engineer Civil Contribution Division 2nd Maqbool Hussain, Project Director KREDA Kacho Ahmed Khan, Representatives of DGM Power Grid and DGM REC PDCL besides other concerned officers.
During the meeting, detailed discussions and deliberations were held pertaining to the installations of electric transformers, electric wires, consumer connections, transformer charging, clearance of pending amounts and other related issues of PDD.
The Secretary PDD directed the concerned officer of RECPDCL to complete consumer connections of remaining 68 transformers installed in Kargil town till 25th December.
He further instructed that in order to avoid electricity cuts and to avoid any kind of inconvenience during winter months, transformers should be fully charged.
The Secretary directed concerned officers to clear the pending amount of other executing agencies as soon as possible in order to conduct smooth execution of works without any hindrance.
Stressing on strict adherence to proper quality of material and equipment related to the installation of transformers and other related works, he said the quality of works should not be compromised.
The Secretary also directed the officers to furnish the joint report of remaining incomplete works as soon as possible.