Secretary of Youth Services & Sports Ravinder Kumar leads Strategic Meeting to Strengthen 1st Ladakh BN National Cadet Corps.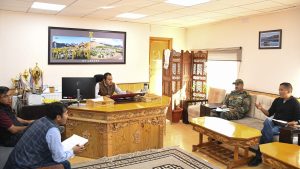 Leh, Sept. 19: In a significant step towards enhancing the efficiency and effectiveness of the 1st Ladakh Battalion of the National Cadet Corps (NCC), the Secretary of Youth Services & Sports, UT Ladakh Ravinder Kumar chaired a pivotal meeting on addressing the pressing issues related to manpower within the NCC at the Civil Secretariat, Leh.
During the meeting, Ravinder Kumar emphasized the need for a collaborative approach to tackle manpower challenges head-on. He recognized the importance of recruiting and retaining dedicated personnel who can inspire and mentor the NCC cadets to achieve their full potential.
Secretary Ravinder Kumar expressed his unwavering commitment to working closely with all stakeholders and his vision is to ensure that the 1st Ladakh BN NCC continues to be a beacon of discipline, patriotism, and personal growth for the youth of Ladakh. The 1st Ladakh BN NCC has long been hailed for its contribution to nurturing disciplined and responsible citizens among the youth of the region, he added.
The NCC Kargil Unit, a much-anticipated addition has been a topic of discussion and planning. During the meeting, the Commanding Officer presented a concrete plan for its establishment, highlighting adequate manpower resources will be allocated to initiate the NCC Kargil Unit, ensuring that it operates effectively from the outset.
The Secretary, recognizing the transformative impact that the NCC has on the youth of Ladakh, expressed their eagerness to provide all necessary resources and assistance required to ensure the smooth formation and operation of the NCC Kargil Unit.
The meeting was attended by the Joint Director of Youth Services & Sports, UT Ladakh; Commanding Officer of 1st Ladakh Battalion NCC, Leh; Deputy Secretary of General Administration Department, UT Ladakh; Officer on Special Duty to the Secretary; and DYSSO of Youth Services & Sports, Leh.