Secretary Mehboob Ali Khan reviews developmental works in Kargil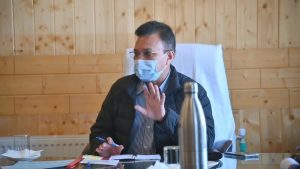 KARGIL, MARCH 23, 2022: Secretary, Tourism, Culture, Labour, Employment, Food, Civil Supplies and Consumer Affairs (FCS&CA) Department, Kacho Mehboob Ali Khan chaired a review meeting of the concerned departments at Kargil Development Authority (KDA) Office on Tuesday.
The meeting was attended by Director FCS&CA Ladakh Tsering Motup, Chief Executive Officer (CEO) Kargil Development Authority (KDA), Abdul Gaffar Zargar, Deputy Secretary, Ladakh Academy of Art, Culture and Languages (LAAC&L), Kargil, Nazir Hussain; Assistant Director Tourism, Kargil, Aga Syed Toha; Assistant Labour Commissioner (ALC), Kargil, Raziya Banoo, Deputy Director Employment, Kargil, Iftikhar Hussain besides other officers.
During the meeting, the Secretary directed the concerned departments to ensure submission of pending bills related to works by or before March 24, 2022.
Reiterating the vision of the UT Administration, Secretary Khan directed the concerned officers of tourism department and KDA to ensure timely resumption of works on ongoing projects/schemes and maintain supervision and monitoring to strictly enforce quality and quantity of work as per approved project report.
The Secretary reiterated use of local material (as far as possible), make all buildings differently-abled friendly, solar passive and architecturally local/Ladakhi. He also directed the concerned officers to prepare list of existing guest houses, huts and tourist buildings where renovation/upgradation is required.
Secretary, Tourism stated that the ongoing projects reveal that the DPRs prepared are incomplete in many respects. He stressed that DPRs of new projects should be complete in all respects.
Secretary Khan directed the concerned officers to immediately complete the wayside amenities at Bodh Kharboo, Wado and Purtikchey before April 15, 2022. The amenities are to be inaugurated by end of April and would be operationalized for public/tourist use.
Regarding public conveniences at Zangla and Himiling, the Secretary, Tourism directed the concerned officers to complete the same by mid of May, 2022. He also instructed AD Tourism, Kargil to prepare the annual activity calendar of Tourism Department, Kargil and promote it on various social media platforms in order to give appropriate publicity.
For preparation of upcoming Apricot Blossom Festival, the Secretary directed AD Tourism and Deputy Secretary LAAC&L, Kargil to organize such festivals in a comprehensive manner so that the purpose of encouraging entrepreneurship in villages is achieved.
The Secretary directed concerned officers of KDA to complete the work on parking space for vehicles and other facilities at Handurman LOC immediately.
The Secretary directed the ALC Kargil to hold a meeting with the Chief Engineer, VIJAYAK to identify locations of major labour camps and take up with the Executive Engineer, PHE to provide potable water supply connection in the camps under Jal Jeevan Mission. He further directed the ALC to take up with the Rural Development Department the issue of disposal of solid and liquid waste at the camp sites.
To ensure enforcement of labour laws, the Secretary instructed the ALC to conduct an inspection of work sites/ labour camps etc. regularly.
Regarding the rationalization of Food and Supply stores in the district, the Secretary directed the concerned officers to prepare a detailed report based on data availability and actual requirements. He also pointed out that verification of BPL cards is an ongoing process and the FCS&CA Department should take this exercise as per requirement.