Secretary Mehboob Ali Khan inspects BADP projects at Kukshoo, Dargo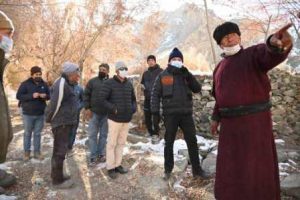 KARGIL, JANUARY 01, 2022: Secretary Tourism, Culture, Labour, Employment and FCS&CA Mehboob Ali Khan, who is also the Prabhari Officer, BADP, Kargil district, yesterday inspected the BADP works at Kukshow and Dargo village.
He was accompanied by Block Development Officer (BDO), Shakar Chiktan Ali Akbar, Tehsildar, Shakar Chiktan, Kacho Asgar Ali Khan, PRI members of the village and other concerned officers.
The secretary interacted with public at Kukshoo and Dargoo and gave a patient hearing to their issues and demands. He inspected the central irrigation kul and its water source at the village.
He also inspected lift irrigation project at Dargoo, which was started in 2017 with a total estimated cost of Rs 19 lakhs. The concerned officers informed that Rs 2 lakhs have been spent on the project and the work is pending since 2017.
The Secretary emphasized on improving the quality of work and on the preparation of plans for maintenance while conceiving any project so that long lasting benefits can reach the people/villagers.