Secretary, Labour and Employment, Kacho Mehboob Ali Khan chairs meeting of BRO and Labour Department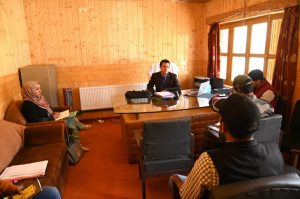 KARGIL, MAY 05, 2022: Secretary, Tourism & Culture, FCS&CA, Labour & Employment, UT Ladakh, Kacho Mehboob Ali Khan on Monday chaired a meeting of Vijayak, Kargil represented by Col. Prashant Jassal of the Border Road Organization (BRO) and Assistant Labour Commissioner, Raziya Khatoon along with representative of registered labour agencies at Kargil Tourism Authority (KTA) Office, TFC Kargil.
The Secretary raised the issue of realignment of the national highway at magnetic hill on Kargil-Leh Highway and creating space for tourists to experience and enjoy the magnetic phenomena. The Secretary stated that magnetic hill is a popular tourist spot near Leh and hence lot of tourists visit this site.
However, being on the high-way it poses great risk to human life and safety as the tourists without realising the risk park their vehicles on the highway itself and takes photographs by practically occupying the highway in an unsafe manner. The Secretary also stated that construction of a bypass road at Khaltsi is required to decongest the Khaltsi market area. The BRO representative assured the Secretary that both the issues will be examined and considered at the earliest.
The Secretary emphasised upon BRO to provide basic facilities to labourers like toilet, drinking water, sanitation, first aid, crèche if female workers are more in number and other facilities as per the relevant labour laws at all work sites/camps. The Secretary emphasised on processing of compensation, if any, at the earliest. The Secretary also stressed upon BRO to engage labourers through registered agencies only and emphasised on obviating the prevalence of middlemen who exploit the labourers without any legal responsibility.
The Secretary stated that BRO has to be a model employer and should give preference in creating more job opportunities for the local workforce.