Secretary, KachoMehboob Ali Khan chairs review meeting at Kargil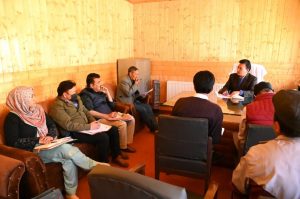 KARGIL, MAY 05, 2022: Secretary, Tourism and Culture, FCS&CA, Labour and Employment, UT Ladakh Kacho Mehboob Ali Khan on Monday chaired a meeting to review the developmental works of Tourism, Culture, Labour, Employment and FCS&CA departments under State Capex/SDP (Both Revenue and Capital) at Kargil Development Authority (KDA) Office, TFC Kargil.
Director, FCS&CA, Ladakh, Tsering Motup; Chief Executive Officer, Kargil Tourism Authority, Abdul Ghaffar Zargar; Executive Engineer, Kargil Tourism Authority, Abdul Mutalib; Assitant Director, Tourism, Aga Syed Toha; Assistant Director, FCS&CA, Sherab Gyaltsan; Assistant Labour Commissioner, Raziya Khatoon; Deputy Director, Employment and Counselling Centre, Kazim Ali; officials of Ladakh Cultural Academy and Senior Librarian, District Library attended the meeting.
The Secretary reviewed the status of execution of work on the construction of District Library Kargil building. He instructed the officials to submit a report within 10 days regarding progress of the work on new District Library building and Sub Division/Tehsil level libraries.
Regarding Employment Department, he enquired about the status of land allotment for access to the office building and discussed about development of Examination Hall, etc. He emphasised on timely completion of works and their quality.
The Secretary also enquired about construction of office complex of FCS&CA, construction of granary stores, installation of the kerosene storage tanks and office for Consumer Redressal Commission. He directed the Director, FCS & CA to ensure uploading of ration distribution data on ePos without any delay. The FCS & CA department has been directed to rationalise distribution of sales centres in a properly planned manner and it was also emphasised that punctuality and delivery of service should be as per predefined schedule.
Under Labour Department the Secretary reviewed construction of Labour Sarais at Kargil, Padum, Sankoo, Drass & Chiktan, and office building at Kargil etc. The ALC Kargil appraised that 70 percent of work on Labour Sarais have been completed. The Secretary instructed to speed up the pace of progress on the projects and emphasised that the labour sarais are required to be made functional with all facilities along with call-center facilitiy at the earliest.
Under Ladakh Cultural Academy, the Secretary reviewed status of taking possession of the allotted Land for Cultural Centre, annual program calendar, and other concerned works.
The officials of Kargil Tourism Authority and Tourism department appraised the Secretary about pace of progress on Tourism related ongoing projects. The Secretary directed the officers of Tourism Authority/department to ensure resumption of works at all ongoing work sites and emphasised that quality, workmanship and timely completion of all ongoing works is utmost priority of the UT Administration.
Later, the Secretary also visited the Tourist Facilitation Centre at Biamathang which is under upgradation. The concerned officials informed that the work will be completed by September this year. The Secretary stressed on creating state of the art infrastructure by ensuring quality and also following timelines.
He also visited the District Library Kargil work site along with the makeshift library, which is currently running in a hired building close to the library work site. He stressed on completion of work on the library at the earliest without compromising with the quality of work.
The Secretary also visited the under construction Labour Sarai and staff quarter of Labour Department at Upper Plateau Kurbathang and instructed the executing agency to speed up work on the project ensuring quality and quantity as per approved plan.
He also visited the Sports and Snow Skiing Base Station at Lower Plateau where he instructed to make the building functional in order to make it available to Indian Institute of Skiing and Mountaineering so that they can start functioning at the earliest.