Secretary Kacho Mehboob Ali Khan visits Hundurman village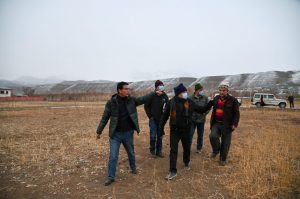 KARGIL, JANUARY 05, 2022: Secretary Tourism, Culture, Labour, Employment and FCS&CA, Kacho Mehboob Ali Khan who is also the Prabhari Officer of Border Area Development Program (BADP) Monday visited Hundurman village in Kargil.
AD Tourism, Aga Syed Taha, Executive Engineer Kargil Development Authority (KDA) Sajjad Hussain Wazir, Assistant Executive Engineer KDA, Muhammad Siddiq Var, OSD to Secretary, Muhammad Ali Tak besides other concerned officers accompanied the secretary during the visit.
The Secretary inspected the viewpoint at Hundurman and directed the executive engineer to upgrade the viewpoint with suitable material which coalesces with the ambience of the area and parking facility on priority basis.
He also visited Hundurman Broq where he was welcomed by Councilor of Poyen Constituency Muhammad Amin and villagers.
Secretary Khan also visited the Museum of Memories Unlock Hundurman where the curator of museum Ilyas Ansari briefed him about the history of the village and museum. He interacted with villagers and ensured them to address their genuine grievances.
Meanwhile, Councillor Poyen and Curator Ilyas Ansari submitted a memorandum to the secretary mentioning several demands like a full-fledged package under BADP to Hundurman, ALC category certificate, digital connectivity, protection and preservation of the abandoned heritage village, public utility place, parking space, cafeteria, footpath to museum, solar lighting for museum, shelf for artifact and polythene for leakage from the roof.
On the occasion, the secretary informed that the heritage listing process is under process and said that the abandoned Hundurman village should be part of the heritage sites and asked the locals to ensure inclusion of the site in the list of heritage sites when the committee visits the village for listing.
He said that various events will be organized on a rotational basis at different places across Kargil.