Secretary, Kacho Mehboob Ali Khan takes stock of tourism infrastructure development work at Chiktan, Likir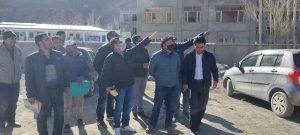 KARGIL, MARCH 22, 2022: Secretary, Tourism, Culture, Labour, Employment, and Food Civil Supplies & Consumer Affairs (FCS&CA) Department, Kacho Mehboob Ali Khan on Tuesday took stock of proposed/ongoing tourism-related development works at Chiktan and Likir.
At Chiktan, the Secretary interacted with the revenue officials and asked them to make available the revenue record related to Chiktan Razi Khar and Chiktan Shagaran.
The Tourism Department is preserving, restoring and promoting Chiktan Razi Khar and Chiktan Shagaran as pivotal heritage/historical sites so that Chiktan regains its historical glory and becomes an important tourist destination.
The Secretary also interacted with public delegations at Khardoon and Manglishon and gave a patient hearing to their demands.
BDC Chairperson, Shakar-Chiktan and other representatives of the area submitted a memorandum outlining important issues requiring consideration of the UT Administration.
The Secretary assured that all genuine demands will be considered by the UT Administration.
While highlighting the historical importance of Shakar-Chiktan area and its rich cultural heritage, values, traditions and folk-lores, he emphasized for active cooperation of the people especially the youth so that Chiktan once again becomes a hub of culture and tourism activity.
Later at Likir, the Secretary inspected the wayside amenity and directed the Executive Engineer, Leh Development Authority to take appropriate action so that the facility/wayside amenity at Likir and Khaltsi is made operational by April 25.