Secretary IT reviews function of Aadhaar Saturation in UT Ladakh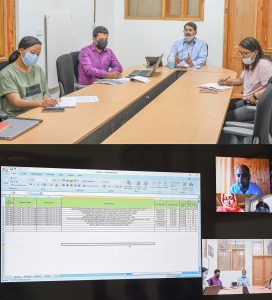 Leh, July 28: Secretary, Information Technology, Department, UT Ladakh, Saugat Biswas, chaired a meeting, today, regarding the status of Aadhaar enrolment and Aadhaar related services at the UT Secretariat, Leh.
Taeef Mir, UIDAI manager, Kargil apprised the Secretary IT Ladakh, who is the Registrar Aadhaar about the Aadhaar saturation figures in Ladakh which includes age band, up to 5-year, 5 year & above up to 18 year and 18 year & above, Aadhaar generation, Aadhar saturation and Kit status in UT Ladakh. UIDAI also appraised about the initiatives being taken to cover age-group from 0-5 years and 5-18 years.
Secretary, Biswas; directed the Project Officers of ICDS department of Leh & Kargil districts to issue instruction to Aganwadi workers to improve the saturation of Aadhaar enrolment age group 0 to 5 years by allotting daily targets to each operator-aganwadi worker. Meanwhile, the Department of School Education has been provided with 22 Enrolment Client Multi Platform (ECMP) kits out of which 17 Aadhaar kits are active which includes nine in Leh and eight in Kargil. He further, instructed School Education Department to make all kits fully functional an issue daily targets to each of the operators.
Secretary, reviewed the current performance of ICDS Leh and Kargil, School Education Department; Aadhaar enrolment and directed the concerned officials of UIDAI to furnish weekly update on Aadhaar enrolment and updation of all age groups every Friday.
It was decided in the meeting that a review in the next 30 days regarding the Aadhaar enrolment of 0-5 years and 5-18 years by which time at least 30% of the left-out population should be completed will be held.
The meeting was attended by Safdar Ali, Director School Education Ladakh;Taief Mir, UIDAI Manager, Kargil Ladakh; Program Officer ICDS Tsering Paldan, Leh & Program Officer, ICDS, Nargis Bano, Kargil;Consultant IT Department, Ladakh; IT manager, Ladakh.