Secretary DSIR Dr Shekhar C Mande visits UT Ladakh Deliberates on effective implementation of CSIR interventions in UT Ladakh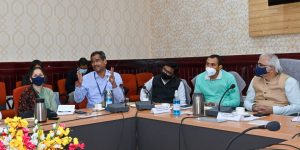 Leh, Oct 09: Secretary, Department of Scientific and Industrial Research (DSIR), Dr Shekhar C Mande, who is also the Director-General of Council of Scientific and Industrial Research (CSIR) visited Leh and convened a meeting with concerned officers and officials of UT Ladakh regarding effective implementation of scientific and technological interventions of CSIR in UT Ladakh.
The Directors of six CSIR organisations CSIR-IIIM, CSIR-NGRI, CSIR-NBRI, CSIR-IHBT, CSIR-CMERI, CSIR-CLRI and Head of CSIR-TMD SeMI and other senior officers are also part of the visiting team.
Secretary, Agriculture and Horticulture, Ladakh; Deputy Commissioner, Leh; heads and officers of the concerned department; farmers, entrepreneurs and self-help groups were present during the meeting.
Secretary, DSIR, Dr Shekhar C Mande, informed that the different organisations of CSIR would provide the necessary technical and knowledge support, such as exposure tours, workshops, training to develop Ladakh in agriculture and all the allied sectors like horticulture, floriculture, animal husbandry among others.
The meeting deliberated on the potential of developing Ladakh as a suitable place for cultivating aromatic plants, medicinal plants, promoting floriculture and apiculture along with simultaneous promotion and protection of traditional crop varieties and indigenous breed of cattle and livestock. The need of establishing agro/food processing units, forward and backward linkages were also discussed.
The CSIR team emphasised on value addition of the primary products to make them economically viable and a source of income and revenue generation. The potential of local products like sea buckthorn and its value addition possibilities were discussed.
It was decided that a Common Facility Centre, mobile oil distillery, sample collection centre for food testing would be established in the UT at the earliest. The CSIR team also interacted with the farmers, entrepreneurs and self-help groups to address their issues and queries.