SDM Zanskar visits CHC Padum, inspects the availability of drugs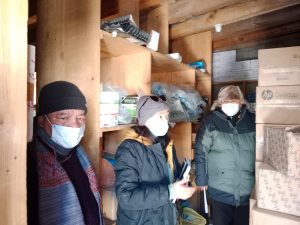 KARGIL, FEBRUARY 05, 2022: Sub Divisional Magistrate Zanskar, Sonam Dorjay today inspected the medical store of Community Health Centre (CHC), Padum and inquired about the availability of medicines.
Block Medical Officer Zanskar, Dr Stanzin Angmo informed the SDM that there is no shortage of any kind of medicine at CHC Padum and other medical centres in the subdivision and sufficient stocks for further six months are available in the store.
It was also disclosed by the BMO that out of 6 Medical Officers posted in CHC Padum, only 3 doctors are present and in the dental section, only one doctor is working out of 4 doctors posted. While the rest of the doctors are either on leave or are attached at Kargil.
While checking the Covid-19 store, Nodal Officer for Covid-19, Dr Arjun informed the SDM that no patient is admitted to the Covid-19 care centre.
The nodal officer added that all the positive patients are in home isolation and they are providing rapid kits through medical and surveillance teams.
The number of positive cases in the subdivision has gone up to 98. At present 3,000 rapid kits are available at CHC Padum. The sampling of government employees are under progress and mass samplings of the general public are also being conducted in the subdivision.