SDM Zanskar discusses SVEEP for SSR of Photo Electoral Rolls with concerned officers, BLOs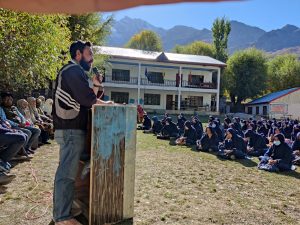 KARGIL, OCTOBER 16, 2021: Sub Divisional Magistrate (SDM) Zanskar Sonam Dorjay today convened a meeting of the Booth Level Officers (BLOs) of the sub division regarding the Systematic Voters Education and Electoral Participation Programme (SVEEP) for Special Summary Revision (SSR) of the Photo Electoral Rolls.
Assistant Electoral Registration Officer (AERO)/Tehsildar Zanskar, Principal Government Model Degree College Zanskar, Naib Tehsildar Zanskar, BLOs besides other concerned officers attended the meeting.
During the course of the meeting, the (AERO)/Tehsildar Zanskar directed the BLOs to ensure their participation in the SVEEP Programme which is scheduled to be held on 19th October, 2021 at Government Model Degree College Zanskar.
The meeting was informed that the SVEEP Programme shall be conducted at every polling station from 1st November, 2021 to impart awareness to the eligible voters while the new electoral roll will be issued to all the BLOs by the end of October, 2021.
Meanwhile, the BLOs were directed to download and log in to the Grauda app which is designed to capture the information of polling stations, PS facilities, checklist and new form of booth App features.