SDM Zanskar convenes public darbar at Ralakung Takes stock of people's issues, grievances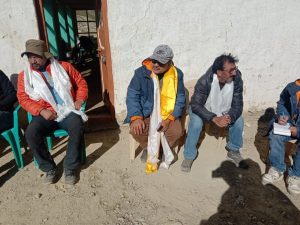 KARGIL, SEPTEMBER 07, 2021: Area Development Officer/SDM Zanskar Sonam Dorjay took a hard trek of 12 hours on horseback to far flung Ralakung village Zanskar to take stock of the issues and grievances of the villagers.
The SDM convened public darbars at Nangma and Phema of Ralakung during which the Tourist Officer Zanskar assured that the trekking route from Phey to Ralakung will be constructed by Tourism Department and survey in this regard will be completed soon. He further said that all households of the village will be provided with homestay facilities by the department.
Livestock Development Officer Zanskar informed the locals that KCC loans will be sanctioned by the Animal Husbandry Department to all the households as they are deserving for it. He further informed that the Foot and Mouth Disease (FMD) vaccination has already been completed in the area.
During the public darbar, Animal Husbandry Department also distributed medicines among the public.
Meanwhile, the SDM directed BDO Karsha to submit DPR for the construction of link road up to Ralakung. He also instructed the Forest Department to provide saplings and Agriculture Department to provide green houses and Alfa Alfa seeds to the villagers.
The villagers demanded pre-fabricated huts for the travelers and visitors visiting Ralakung.
SDM Dorjay informed the villagers that for connectivity in the area through satellite phone, Rs 21700 has already been re-charged by the Government in advance.
A revenue camp was also held during the public darbar.
Tourist Officer Abdul Aziz, Livestock Development Officer Dr Anwar Hussain, Revenue personnel besides the engineers of Tourism Development Authority accompanied the SDM during the tour.